How to find FASTag customer ID using vehicle number?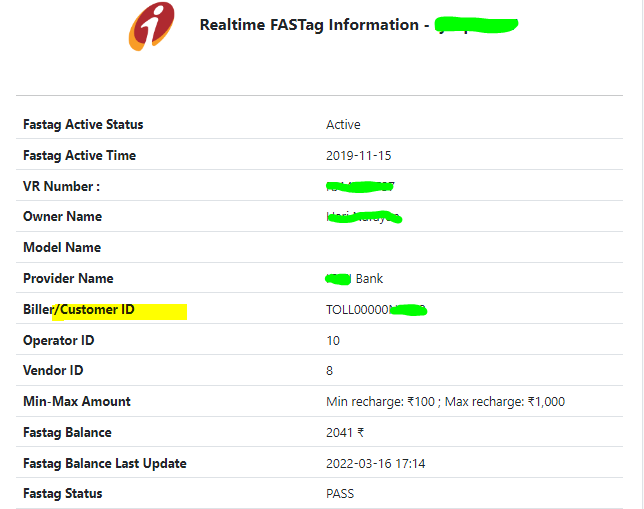 FASTag is an electronic toll payment system that uses Radio Frequency Identification or RFID tags for automatic payment deductions at toll plazas. It is linked to a digital wallet, which you can recharge by logging into your account via the official FASTag portal of the issuer bank or other authorised portals online. In order to access your FASTag wallet, you will need your customer ID and password. In this article, we have explained how to find FASTag customer ID using the vehicle number.
What is FASTag and FASTag wallet?
FASTag refers to an electronic payment system that uses RFID technology. The toll plazas across the highways are equipped with RFID scanners that scan the FASTag stickers attached to the vehicles' windscreens to enable automatic toll deduction. It is mandatory for all four-wheelers in India from 16 February 2021. All toll booths under NHAI or the National Highways Authority of India collect toll charges via FASTags.
When you can attach a FASTag to your car's windshield, it stays linked to a wallet you can manage via the issuer bank's website or other authorised digital platforms. The required toll payment is deducted from the wallet when your car's tag comes in the detection range of the scanners at toll plazas. That's how a FASTag and its linked wallet work together.
What is FASTag customer ID?
A FASTag customer ID is a 12-digit code that comes along with a FASTag welcome email.
A customer ID, also known as a user ID, allows you to log in to your FASTag account. So, in case you forget or lose your FASTag customer ID, accessing the account can be difficult.
How to find FASTag customer ID using vehicle number: A step-by-step guide
If you forget your FASTag customer ID, you cannot log in to the tag portal for recharge and other tasks. Hence, it's crucial to know the user ID. You can follow the steps mentioned below for the same.
Step 1: Visit the official FASTag portal of your issuer bank or FASTag service provider.

Step 2: Find the 'Contact' section on the portal.

Step 3: Use the customer support number to contact an executive from the issuer bank.

Step 4: Explain the problem to the support executive and provide your vehicle number.

Step 5: The support executive will verify your vehicle number and provide you with the FASTag customer ID.
How to find fastag customer id using vehicle number
Follow the below mentioned steps to find FASTag customer ID online –
Click on this link https://know.vehicledetail.info/fastag-enquiry/ to check FASTag customer ID online.
Then the website will open in front of you, and you will get to see something like this.
Here enter your vehicle registration number which we also call plate number.
Enter car/bike registration number and click on karane ke baad inquiry button.
As you click on the inquiry button, you get to see the details of FASTag in front of you.
Here your Biller/Customer ID option will be mentioned whichever is the Customer ID of my FASTag account.
Some like this you can easily find fastag customer id, hope you still get fastag customer id.
Is FASTag linked to the vehicle number?
FASTag is linked to the vehicle number. You can change the vehicle number (registration number) for a FASTag, but it can serve only one vehicle number at a time.
To change the vehicle number for a FASTag, you will require scanned copies of your new vehicle's RC (Registration Certificate). Your issuer bank will verify the RC along with your details. Then, the new vehicle number will be updated for your FASTag. You can complete this process online using the issuer bank's FASTag portal.
Can I log into my bank's FASTag portal without the customer ID?
Customer ID or user ID is essential to log in to your FASTag portal. You should know it to log into your account and perform various transactions such as tag recharge, viewing transaction history, etc.
What is a wallet ID for FASTag?
You get an identification number for the FASTag wallet from the issuer bank along with the FASTag sticker. It comprises 14 digits. The wallet ID for a FASTag is sent to the user in the welcome email.
Where can I find the customer ID for my FASTag?
You get a customer ID along with your FASTag sticker. You should check the welcome email sent to the registered email address at the time of purchasing the FASTag. This email should contain a 12-digit customer ID.
How do I recharge my FASTag online?
Login to your FASTag issuer bank's portal or download the MyFASTag app to recharge the tag wallet. You can recharge the FASTag wallet online via UPI payment portals, net banking, debit/credit cards, NEFT/RTGS, etc.
Is it mandatory to have a FASTag on my vehicle?
The Government of India has made toll payments via FASTag mandatory for four-wheeled vehicles from 16 February 2021. Moreover, a FASTag is now compulsory to purchase third-party insurance for vehicles. Thus, you must buy a FASTag for automatic toll payments on NHAI highways.
What if my car doesn't have a FASTag, and I have to cross a toll plaza?
To cross a toll plaza without an active FASTag, you will have to pay double the regular toll in cash. At the initial stage of the FASTag launch, toll plazas used to have only 1 or 2 lanes dedicated to automatic toll collection. It allowed vehicles without FASTag to pay the regular charges in cash to cross toll booths. But now, the government has mandated FASTag for every four-wheeler. Thus, if you choose to cross a toll lane with cash payment, the amount will be double the regular charges.
How can I buy a FASTag online?
There are many issuer banks and other authorised FASTag providers online. You can check your bank's website to ensure that they offer FASTag. Or, go to the National Payments Corporation of India or NPCI portal to find the list of all FASTag issuer banks.
How can I find my FASTag customer ID using my mobile number?
You can use your registered mobile number to call the customer support number of the FASTag issuer bank to find out the customer ID.
How can I update my vehicle registration number in FASTag?
You can call the customer support number of your FASTag issuer bank for the vehicle registration number updation. Keep the vehicle RC copy handy, as it is a mandatory document.
How to know the FASTag issuer bank name with vehicle number?
You do not need the vehicle number to know the FASTag issuer bank. It will be mentioned on the FASTag sticker itself. Hence, you can easily know the bank's name.